realbaresoles
All Pro Poster
Member # 44451



posted





---
Latest clip, click my link at the bottom of this page to go to the store.

I love auburn hair -- in fact it might be my favorite hair color. So when I saw this absolutely gorgeous pixie of a girl in a sun dress in the park back in 2008, wriggling her feet all around, I sat down and shot about 25 minutes of her, amazed at my good fortune. Which became bad fortune, because ... I lost the tape! I have never found it since, but I haven't given up looking.

In the meantime, I was so relieved to see her again in the park at the end of that summer, during some sort of Japanese festival that was going on there, in her normal pose -- feet bared and up on a chair. The first time she had had her feet side-by-side as she gossiped with a friend on the phone, but this time she was reading and had her ankles crossed. But that didn't stop her from wriggling her feet all around just about non-stop! But the way she was doing it suggested to me that she was stretching or exercising her calf muscles rather than wiggling her feet per se. (See if you agree when you view the clip.) She had frequently peeked at the camera with a smile the first time I shot her (the lost segment) but this time she was wearing shades and so I couldn't make out if she was looking -- but I was so close, how could she not know, espcially as I'd done it once before? I think there's no mistake that she didn't mind what I was up to, because I shot another half hour of her.

She's so beautiful, no more than five one or two, with the face of an angel, amazing cheekbones, big gorgeous green eyes (take my word for it) and a silly, endearing smile. Her feet look big due to forced perspective but trust me, they are no more than size 6. I think she must wear heels a lot because her feet were a tiny bit rough but my god I don't mind! At the end of this segment, a guy came over and solicited about some hair salon -- this guy used to do this all the time until he was replaced by another guy. She chats with him about it for a few minutes, but eventually he fucks off and she goes back to her book ... at which point my battery dies. Even though I'd been shooting for a half hour, I still didn't want to miss a second! I went to swap my battery, but it's interesting -- when she saw me put my camera down, she put her book away, put her pink chucks back on, and left. Which leads me to the question, was she staying so long because I was shooting?

For years this has ranked up there with the Nice Little Chat girl (Perfect Brunette) as one of my all time favorites, and that's weird, because they are both little with little feet, whereas I see myself as a "tall girl with big feet" lover. I guess sexy soles are sexy soles, size 6 or size 12! This is an EDD (early digital days) segment that was shot on mini-DV tape.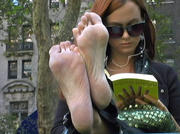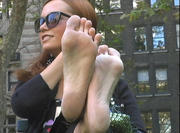 --------------------
My Clips4Sale store:

https://www.clips4sale.com/studio/40361/real-bare-soles#cide5b89ed866eac7887fb2df1420

---
Posts: 777 | Registered: Feb 2012 | IP: Logged |